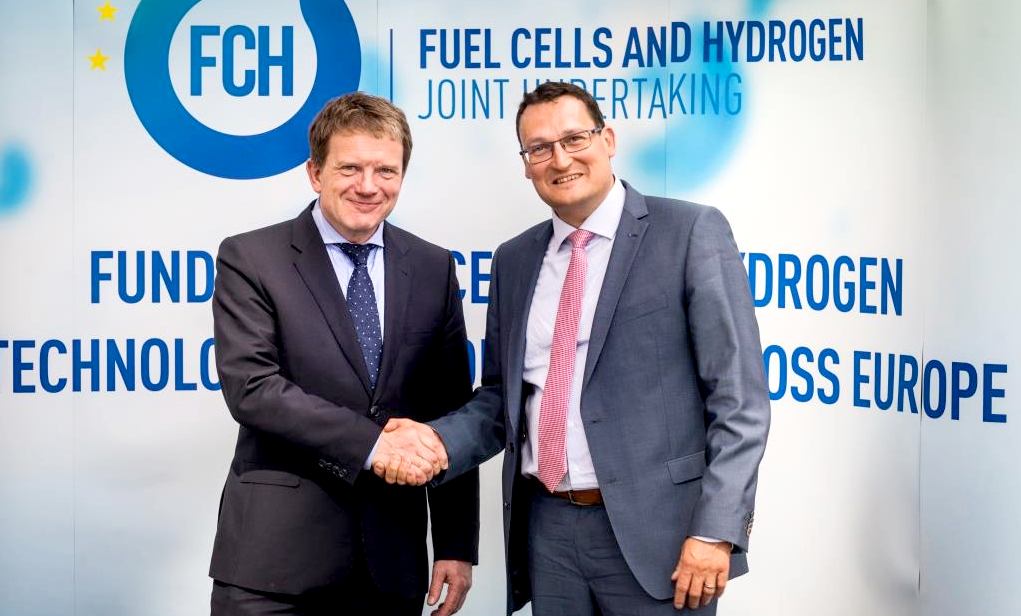 BART BIEBUYCK & PHILIPPE VANNSON - The Fuel Cells and Hydrogen Undertaking (FCH JU) are working to facilitate the market introduction of FCH technologies in Europe and realise their potential in a carbon-clean energy system. They do this by implementing research and innovation (R&I) programmes in order to develop a portfolio of clean, efficient solutions that exploit the properties of hydrogen as an energy carrier and fuel cells as energy converters, to the point of market readiness.
According to their website, the Fuel Cells and Hydrogen Joint Undertaking (FCH JU) is a unique public private partnership supporting research, technological development and demonstration (RTD) activities in fuel cell and hydrogen energy technologies in Europe. Its aim is to accelerate the market introduction of these technologies, realising their potential as an instrument in achieving a carbon-clean energy system.

Fuel cells, as an efficient conversion technology, and hydrogen, as a clean energy carrier, have a great potential to help fight carbon dioxide emissions, to reduce dependence on hydrocarbons and to contribute to economic growth. The objective of the FCH JU is to bring these benefits to Europeans through a concentrated effort from all sectors.

The three members of the FCH JU are the European Commission, fuel cell and hydrogen industries represented by Hydrogen Europe and the research community represented by Hydrogen Europe Research.
APRIL 2021 WHAT IS THE IDEAL RATIO - HYDROGEN Vs LITHIUM?
The FCH-JU have just advertised a call for tenders in an amount of €200,000 EUR, for a study, looking to define:
"The subject of this call for tenders is to provide evidence, through a comprehensive study, of the possible optimal blend between electric recharging and hydrogen refueling infrastructure covering the full spectrum of road transport applications. The study should allow to assess, both per Member State and at European level, the best way to deploy these infrastructures, the synergies and interactions with other existing ones. The results may be used to provide the input necessary for stakeholders on which possible deployment strategies for electric charging and hydrogen refueling for all the various transport modes."
Tender reference number FCH / OP / CONTRACT NO. 296
Title Study on Impact of Deployment of battery Electric Vehicles (BEV) and Fuel Cells Electric Vehicles (FCEV) Infrastructure
EU PROPOSAL TO SET UP A CLEAN HYDROGEN PARTNERSHIP FOR EUROPE

The European Commission presented on 23 February 2021 its proposal to set-up 10 new European Partnerships and invest nearly €10 billion for the green and digital transition.

Among these, the Clean Hydrogen Partnership will be building on the work of the Fuel Cells and Hydrogen Joint Undertaking, to accelerate the development and deployment of a European value chain for clean hydrogen technologies. It will focus on producing, distributing and storing clean hydrogen and, on supplying sectors that are hard to decarbonise, such as heavy industries and heavy-duty transport applications.

Together with the Hydrogen Alliance, the partnership will contribute to the achievement of the Union's objectives put forward in the Green Deal and, more specifically, in the EU hydrogen strategy for a climate-neutral Europe.

"We welcome the proposal of the European Commission to set up the Clean Hydrogen Partnership. This initiative is a clear evidence of the success of the FCH JU, which managed to put Europe in a leadership position in FCH technologies such as electrolysis and supported the development of integrated hydrogen ecosystems ("hydrogen valleys") in various European regions. We will continue to work relentlessly to develop and promote hydrogen technologies in Europe, realising their full potential in achieving carbon-clean energy systems and ultimately a climate-neutral Europe. We are happy to be shaping together with the other partnerships the future of a green and competitive European economy", said Bart Biebuyck, FCH JU Executive Director.

Since its setup in 2008, the FCH JU has funded 285 research and demonstration projects, with an overall budget of over €1 billion Euros.

The Commission's proposal for a Regulation, the Single Basic Act, will be adopted by the Council of the European Union, following consultation with the European Parliament and the Economic and Social Committee.


FCH JU STORY

The story of FCH JU begins with the High Level Group on Hydrogen, when Romano Prodi and former European Commissioners Loyola de Palacio and Philippe Busquin laid the grounds for the creation of FCH JU. The High Level Group was an informal body with an advisory role. It involved 19 hydrogen-power stakeholders and included representatives of the research community, industry, public authorities and end-users. Together, they outlined the steps needed to enable a sustainable hydrogen-oriented economy.


FCH JU under the Framework Programme for Research (FP7)
The FCH JU operated its next phase under the EU FP7 research programme (with a budget of €940 mil.) within the European Hydrogen and Fuel Cell Technology Platform (HFP) (2004-2007), as recommended by the High Level Group. The platform brought together, for the first time, the European Commission, industry and other stakeholders from across the fuel cell and hydrogen energy supply chain – all committed to putting hydrogen on the clean energy map.

In the context of a new Energy Policy and complemented by the Strategic Research Agenda (1.6 MB), the Deployment Strategy (3.3 MB) and the Implementation Plan - Status 2006 (3.3 MB), the HFP emphasised the key role hydrogen and fuel cells have in Europe's shift towards new and clean energy technologies. Based on this shared vision, the Council Regulation established on 30 May 2008 the FCH JU, as a public-private partnership (PPP) between the European Commission, European industry and research organisations.


FCH JU under Horizon 2020

The Council of the European Union formally agreed on the 6th May 2014 to continue the Fuel Cells and Hydrogen Joint Technology Initiative and to extend funding under the Horizon 2020 Framework Programme. This phase will run until 2020 and has a total matched budget of at least €1.33 bill. provided by the public-private trio – the European Commission, the industry grouping Hydrogen Europe and the research grouping Hydrogen Europe Research.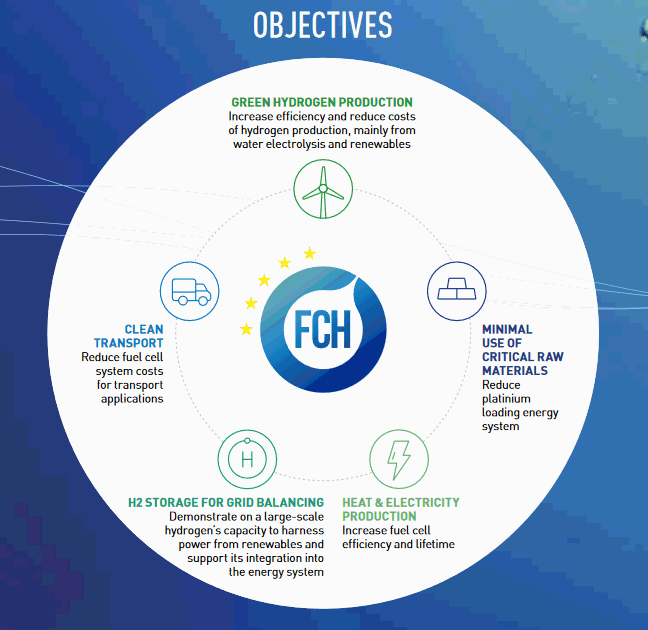 .....
CERTIFHY SCHEME
Hydrogen as an energy carrier offers an important solution to decarbonise industrial processes and economic sectors where reducing carbon emissions is both urgent and hard to achieve.

Hydrogen may be produced through a variety of pathways, each one with its own range of emissions depending on the technology and energy source used. It is therefore indispensable to have a robust and reliable instrument in place to guarantee the environmental characteristics of the hydrogen product.

Currently the EU is leading the way in hydrogen certification through an FCH JU project CertifHy that started back in 2014. The project succeeded at delivering a design for a Guarantees of Origin Scheme for Hydrogen and developed a roadmap for its establishment. The FCH2 JU continued to support this initiative for a second phase where the Guarantees of Origin Scheme was tested in a pilot operation, while tackling the complexities and challenges in the full chain from auditing the plants to verification of hydrogen production batches and handling GHG allocation issues. The aim being to prevent brown, gray and blue hydrogen being passed off, fraudulently, as green hydrogen.

Now the FCH2 JU is ready to proceed with the third phase of this initiative, where it will support the harmonisation efforts in the establishment of Guarantees of Origin Schemes for Hydrogen across Member States. In an even more ambitious move, the FCH2 JU will try to facilitate the harmonization of hydrogen certification at an international level, ensuring that we have a common agreement worldwide on how to characterize renewable and low-carbon hydrogen products.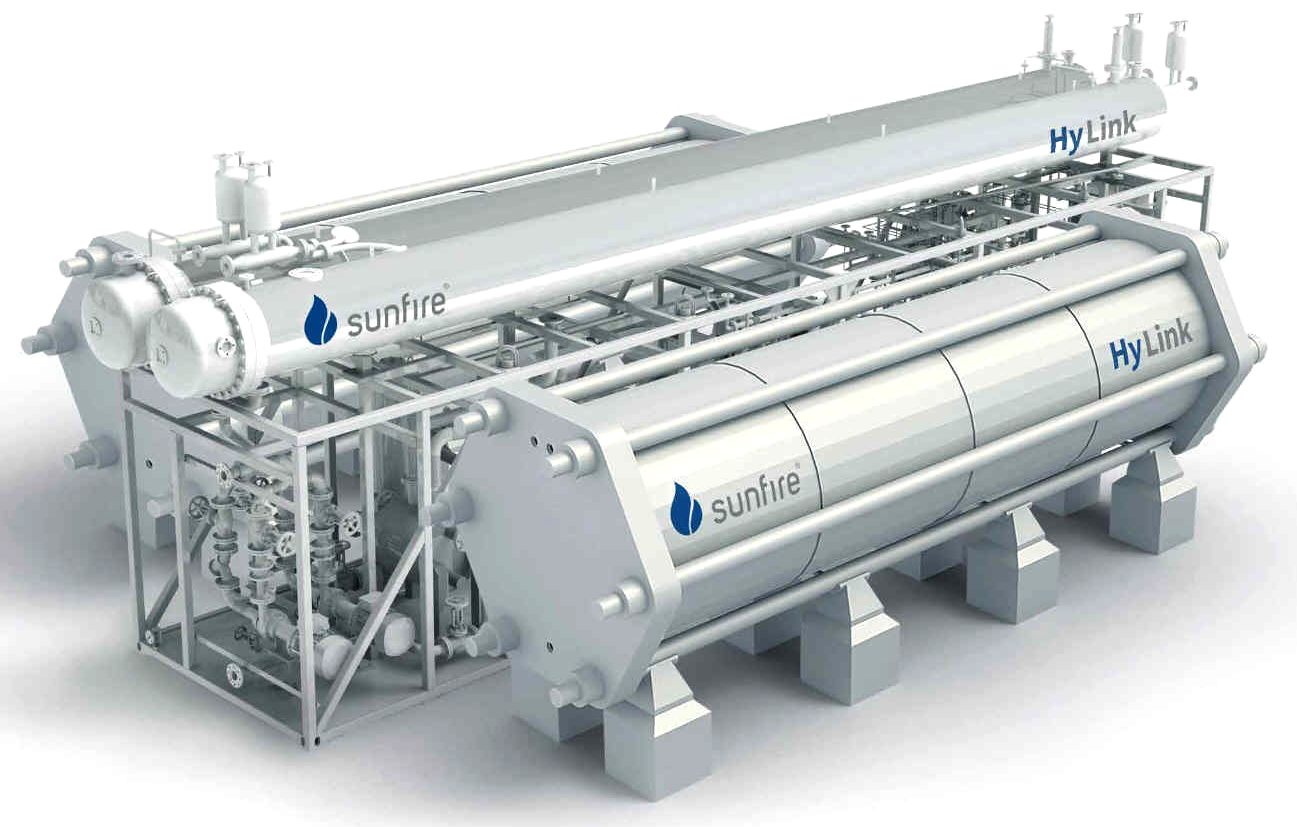 Sunfire's pressurized Alkaline electrolyzer is optimal for applications without (or with limited steam availability). With a system lifetime of at least 90,000 operating hours, the electrolyzer is our established solution for renewable hydrogen production.

The electrolyzer has a scalable system design. One system produces 2,150 Nm³/h hydrogen at 30 bar(g) with a power consumption of 4.7 kWh/Nm³.

Nm3/hr = Normal Meter Cubed per Hour. Unit used to measure gas flow rate. The 'Normal' refers to normal conditions of 0degC and 1 atm (standard atmosphere = 101.325 kPa) – for practicle purposes this is rounded to 1 bar.
SUNFIRE
Sunfire has successfully delivered the world's most powerful High-Temperature Electrolyzer (HTE) for highly energy-efficient hydrogen production to Salzgitter Flachstahl GmbH. Within the GrInHy2.0 project, Sunfire's HTE system with a rated electrical output of 720 kilowatts will be deployed in an industrial environment for the first time.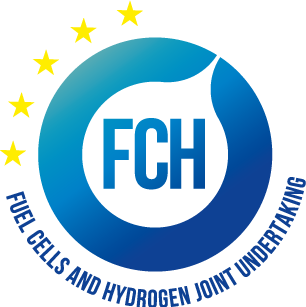 CONTACTS
FUEL CELLS AND HYDROGEN JOINT UNDERTAKING
Avenue de la Toison d'Or 56-60, B-1060 Brussels

Tel.: +32 2 221 81 48
Fax: +32 2 221 81 26
e-mail: fch-ju@fch.europa.eu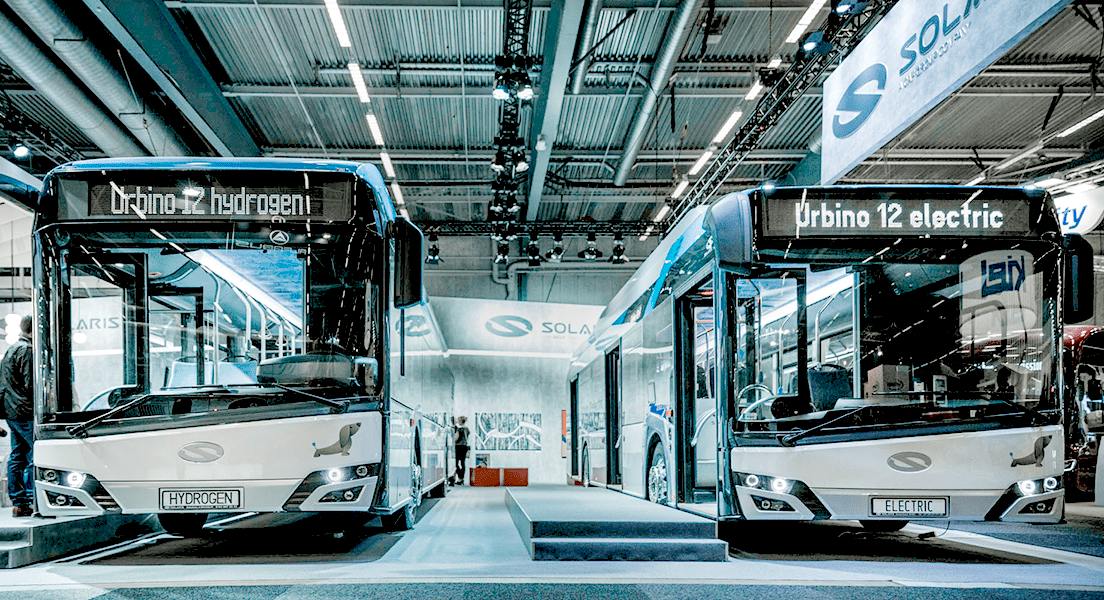 Hydrogen powered electric buses are becoming very popular. With exchange refuelling using high pressure gas cartridges, or liquid hydrogen cartridges, coaches and trucks might have unlimited ranges. We hope this is a topic of discussion at the forthcoming UN COP 26 in Glasgow, Scotland in November 2021.
LINKS & REFERENCE
https://www.fch.europa.eu/page/who-we-are
Please use our A-Z INDEX to navigate this site
This website is provided on a free basis as a public information service. copyright © Climate Change Trust 2021. Solar Studios, BN271RF, United Kingdom.