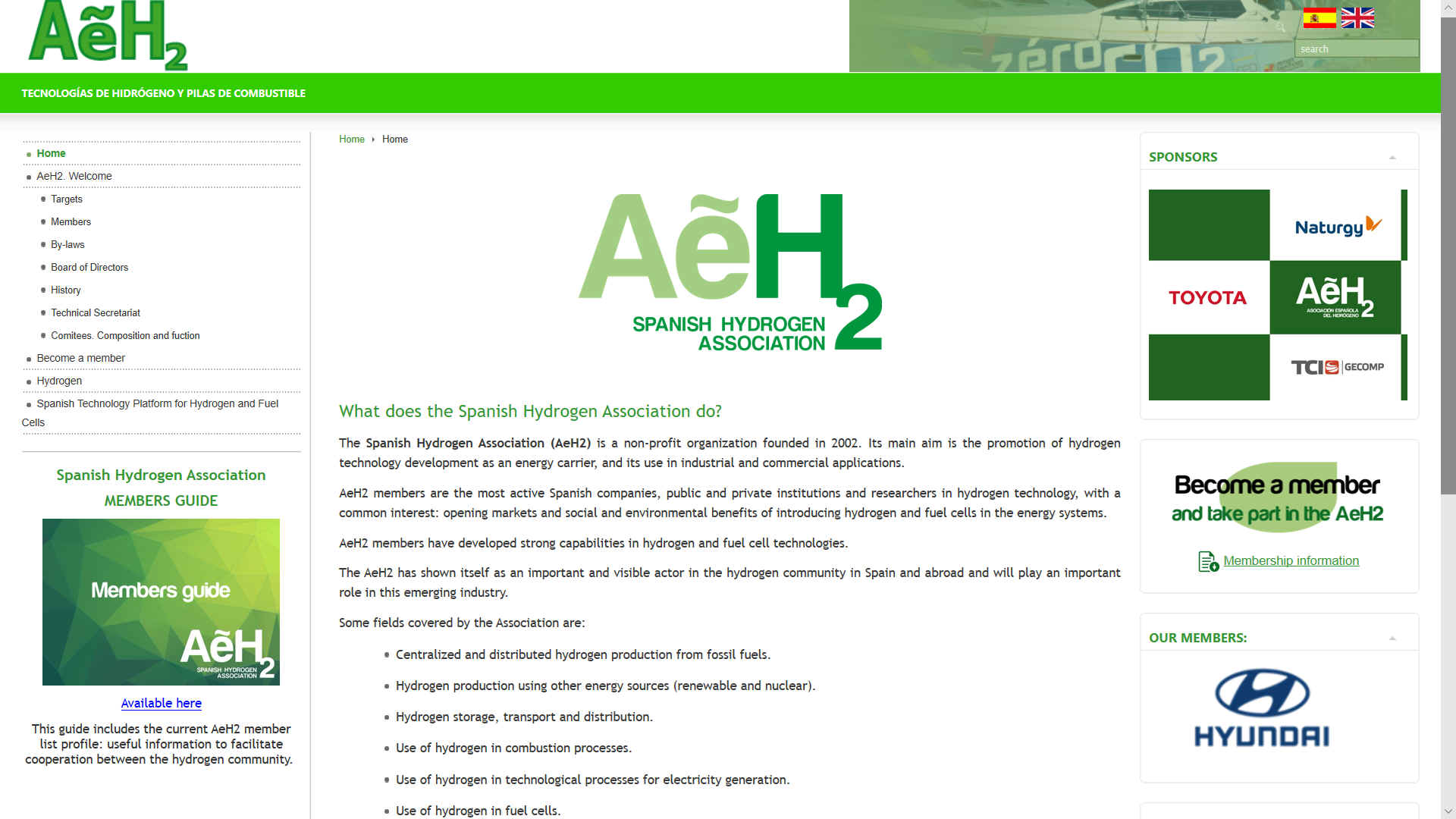 The World Hydrogen Congress is the annual meeting place for senior decision-makers right across the hydrogen production and distribution value chain. An outstanding executive line up augmented by strong association support from both the blue and green hydrogen markets is leading to what promises to be a unique event for all hydrogen executives. The World Hydrogen Congress invites you to be part of an innovative platform of thought leaders, exchanges and debates between key hydrogen stakeholders, technology & science providers and world-leading industry views in just 2 intense, information-rich days.
The Spanish Hydrogen Association (AeH2) is a non-profit organization founded in 2002. Its main aim is the promotion of hydrogen technology development as an energy carrier, and its use in industrial and commercial applications.
AeH2 members are the most active Spanish companies, public and private institutions and researchers in hydrogen technology, with a common interest: opening markets and social and environmental benefits of introducing hydrogen and fuel cells in the energy systems.
AeH2 members have developed strong capabilities in hydrogen and fuel cell technologies.
The AeH2 has shown itself as an important and visible actor in the hydrogen community in Spain and abroad and will play an important role in this emerging industry.
Some fields covered by the Association are:
- Centralized and distributed hydrogen production from fossil fuels.
- Hydrogen production using other energy sources (renewable and nuclear).
- Hydrogen storage, transport and distribution.
- Use of hydrogen in combustion processes.
- Use of hydrogen in technological processes for electricity generation.
- Use of hydrogen in fuel cells.
- Regulation and safety.
AEH2 MEMBERS
There are 3 categories of membership of AeH2.
a) Enterprises, b) Research centers, public organizations and not for profits, c) Individual members
ENTERPRISES
ARIEMA ENERGIA Y MEDIOAMBIENTE S.L.
DESCALTOM
H2B2 ELECTROLYSIS TECHNOLOGIES SL
HASKEL SISTEMAS DE FLUIDOS ESPAÑA, S.R.L.
HIDROGENA DESARROLLOS ENERGÉTICOS S.L.
HOLTROP S.L.P. TRANSACTION & BUSINESS LAW
TCI GECOMP
VÁLVULAS Y CONEXIONES IBÉRICA S.L.U. (SWAGELOK)
RESEARCH, PUBLIC ORGANIZATIONS AND NON PROFITS
CIEMAT
DPTO. INDUSTRIA, COMERCIO Y TURISMO, GOBIERNO DE ARAGÓN
FOUNDATION FOR THE DEVELOPMENT OF NEW TECHNOLOGIES IN ARAGON
FUNDACIÓN IMDEA ENERGÍA
INTA
INDIVIDUAL MEMBERS
Aranda Parras, Luis Manuel
Arenillas de la Puente, Ana
Arias Ergueta, Pedro Luis
Berlanga Rubio, David
Brey Sánchez, José Javier
Cantero Gonzalbo, Jesús
Chica Lara, Antonio
Chinarro Martín, Eva
Delgado Botello, Rafael
Diéguez Elizondo, Pedro Mª
Esparza Ferrera, Pedro C.
Estrada Iglesias, César
Fernández Arauzo, Jorge
Fraile Gallo, Miguel (Socio de honor)
Gandía Pascual, Luis
García Fierro, José Luis
Garmendia Martínez, Xabier
Gómez Sainero, Luisa María
González González, Juan Félix
Guinea Díaz, Domingo
Gutiérrez Tous, José
Homs Martí, Narcís
Iturbe Cuervo, Gonzalo
Jurado García, Antonio
Lagos Benítez, Antonio
Lázaro Elorri, Mª Jesús
Leo Mena, Teresa J.
Liñán MArtínez, Jose María
Lobato Bajo, Justo
Luna Aragón, José Manuel
Mainez Bosch, José Manuel
Martín Mederos, Aday Carlos
Martínez-Val Peñalosa, José Mª
Molina Reina, Pedro Pablo
Moliner Alvarez, Rafael
Montero Rumbao, Belén
Moreno Burriel, Berta
Muñoz Vicedo, Sergio
Ocón Esteban, Pilar
Ortiz Sainz de Aja, Alfredo
Padrón Hernández, José Manuel
Palacio de la Encina, Sebastián
Pastor Tejera, Elena M.
Peña Jiménez, Miguel A.
Peña Llorente, José Angel
Pequeño Aboy, Horacio
Pevida García, Covadonga
Piqueras Quiles, Lluís Manuel
Posada Villar, José María
Ramírez de la Piscina Millán, Pilar
Reina Oller, Francisco
Robledo Bueno, Jesús
Rodríguez García, Eduardo Amador
Romo Lagunas, Fidel
Rubiera González, Fernando
Sacristán Moraga, Luis
Sánchez Bermúdez, Ángel Manuel
Sanchis Gúrpide, Pablo
Santamaría Estépar, Fernando
Suelves Laiglesia, Isabel
Tinaut Fluixá, Francisco
Treviño Coca, Manuel (Socio de honor)
Urroz Unzueta, José Carlos
Ursúa Rubio, Alfredo
AeH2 is an associate of the World Hydrogen Congress.
The World Hydrogen Congress is the leading annual meeting place for senior executives working in the field of hydrogen production, transportation, distribution, storage, policy and end use applications.
A - Z INDEX OF SPONSORS AND ASSOCIATES
| | | | |
| --- | --- | --- | --- |
| | | Spanish Hydrogen Association | |
| | | Engineering design advising on infrastructure & energy | |
| | | UK Gas supply network | |
| | | California Hydrogen Business Council | |
| | | European Chemical Industry Council | |
| | | Gas supply, marketing & consultancy | |
| | | European Gas Association | |
| | | Gas Infrastructure Europe | |
| | | Oo Weg Met Waterstof | |
| | | European | |
| | | Membraneless alkaline electrolyser | |
| | | International Council Local Environmental Initiatives | |
| | | International Road Transport Union | |
| | | UK low carbon partnership for cleaner vehicles & fuels | |
| | | Electrolyzers and hydrogen refueling stations | |
| | | Global energy infrastructure management (Guidehouse) | |
| | | Waste management & recycling to hydrogen | |
| | | Regional Pomeranian Chamber Commerce | |
| | | Renewable energy to supplant fossil fuels | |
| | | Society For Gas as a Marine Fuel | |
| | | Energy infrastructure and security | |
| | | Gold sponsor - Swiss renewable energy investments | |
| | | Sweden | |
| | | Offshore and subsea production | |
| | | Energy company | |
| | | International energy company | |
| | | Hydrogen Sweden | |
| | | Energy, chemicals, resources | |
| | | Natural gas association (not for profit) | |

AEH2 CONTACTS

Asociación Española del Hidrógeno
Ronda de Poniente,15, 1º Int.
IzdaTres Cantos
28760 Madrid

Email: info@aeh2.org
Teléfono: 91.804.53.72 / 91.241.95.31
.....
LINKS & REFERENCE

https://www.smartenergy.net/
https://afry.com/en
https://guidehouse.com/
https://www.snam.it/en/
https://www.technipfmc.com/
https://www.total.com/en
https://www.cadentgas.com/
https://www.plagazi.com/
https://www.storengy.com/en
https://www.worleyparsons.com/
https://www.uniper.energy/
http://hydroxholdings.co.za/home/
https://www.aeh2.org/
https://www.californiahydrogen.org/
https://www.cefic.org/
https://eurogas.org/
https://www.gie.eu/
https://opwegmetwaterstof.nl/
https://hydrogeneurope.eu/
https://iclei-europe.org/
https://www.iru.org/
https://www.lowcvp.org.uk/
http://rigp.pl/
https://www.renewableh2.org/
https://www.sgmf.info/
https://shdc.se/
http://www.vatgas.se/in-english/
http://hydrogensweden.com/
https://zukunft.erdgas.info/
https://www.worldhydrogencongress.com/
https://www.greenpowerglobal.com/
https://www.fch.europa.eu/event/world-hydrogen-congress-working-towards-zero-emission-world
This website is provided on a free basis as a public information service. copyright © Climate Change Trust 2020. Solar Studios, BN271RF, United Kingdom.