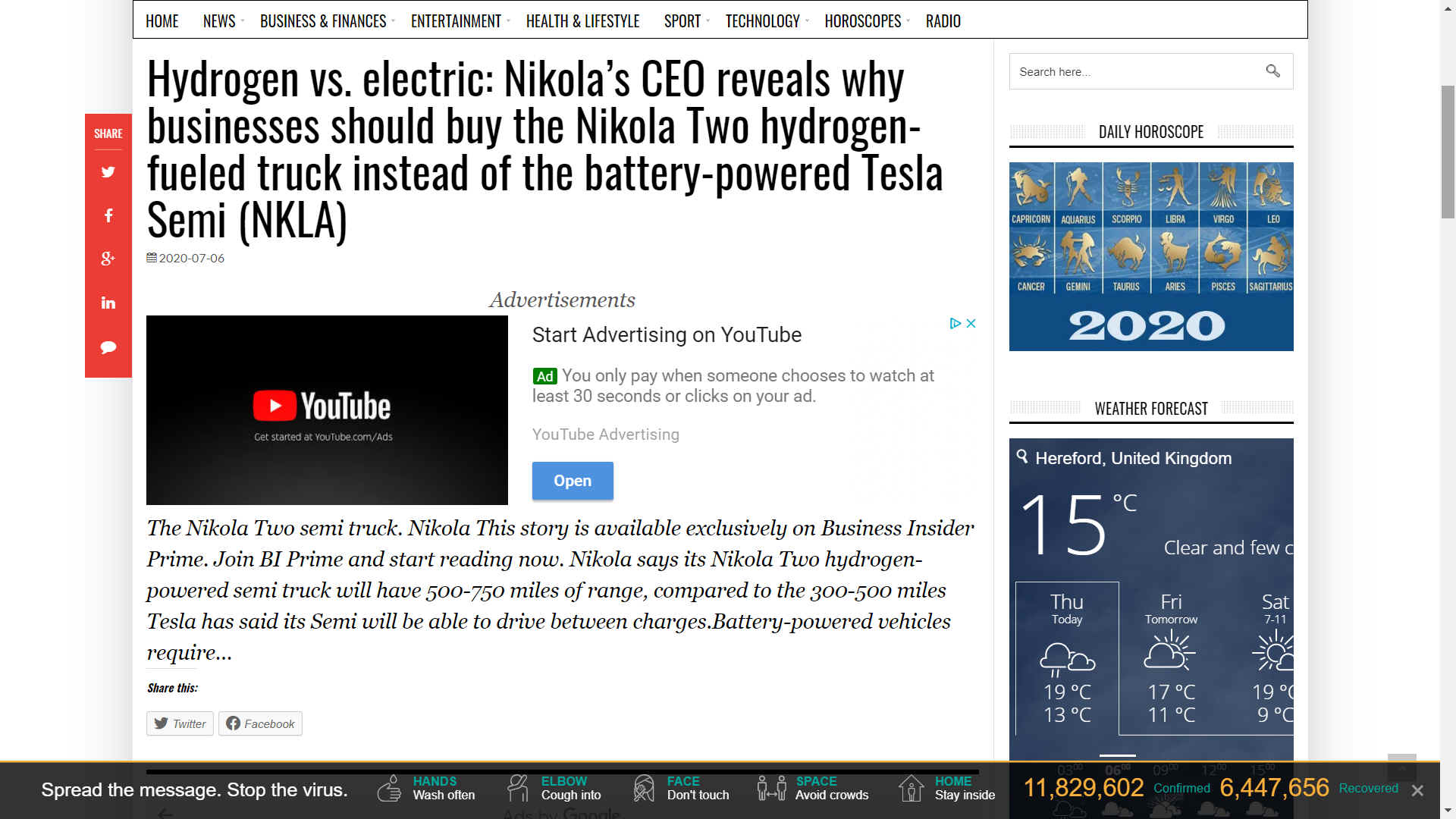 Hydrogen vs. battery technology for powering electric trucks. Investors seem to like the idea of a hydrogen based economy, despite the efficiency disadvantages.
CHO CHILINO JULY 2020

According to several media sources, the truck manufacturer, Nikola, says its 'Nikola Two' hydrogen-powered semi truck will have 500-750 miles of range, compared to the 300-500 miles Tesla has said its 'Tesla Semi' will be able to travel between charges.
Battery-powered vehicles require a trade-off between range and storage capacity. This is according to Nikola CEO Mark Russell, as quoted in Business Insider in July 2020.
Such information is published on the Nikola website, but many people might not know of the advantages and disadvantages of convention lithium batteries, as compared to the Pros and cons of hydrogen and fuel cells.

More range means a bigger (heavier) battery or hydrogen tank, and less room for freight, that is the same for any technology, even diesel.

Tesla CEO Elon Musk has mocked the idea that hydrogen fuel cells could serve as a viable alternative to batteries as a power source for electric vehicles. But, according to the electric-vehicle startup Nikola, which, among other products, plans to make semi trucks powered by hydrogen fuel cells, its models will have a range advantage over Tesla's freight truck, the Semi, which will run on batteries.
Nikola CEO Mark Russell is quoted in an interview with Business Insider: "Diesel's more energy-dense than a battery. Hydrogen's more energy-dense than diesel fuel. So we can get a freight load a long way with just a little bit of hydrogen,"

The Nikola Two semi truck will have 500-750 miles of range, the startup says, compared to the 300-500 miles offered by the Semi. Of course, like the other electric-vehicle startups that have promised head-turning specs, Nikola has not yet delivered any vehicles (it plans to release a battery-powered semi truck next year, with its hydrogen-powered models to follow in 2023), so it remains to be seen whether the production version of the Nikola Two will live up to the expectations the company has set.

But there's a simple reason the Nikola Two will be able to travel farther than the Semi between refueling stops, according to Russell. Batteries are heavy and take up space, creating a trade-off between a semi truck's capacity and range. If you want more range, you'll need a bigger battery, which means you won't have as much room to carry freight. Russell gave as an example Anheuser-Busch, which has pre-ordered up to 800 semi trucks from Nikola. Anheuser-Busch transports beer from Los Angeles to Phoenix every day, Russell said, on a route that spans over 400 miles.

"If you tried to do that with batteries — to go 400 miles — then your battery is so big and heavy that you would have to take several pallets of beer, thousands of pounds of beer off of that truck and replace it with extra batteries to get that far," Mark Russell is quoted as saying.

Tesla did not respond to a request for comment. Elon Musk has been quoted extolling the negatives of hydrogen, one of which is conversion losses, in utilising energy from nature and turning that into hydrogen gas - and that is true. A battery car powered by renewable energy will return more miles.

One potential issue with hydrogen-powered vehicles, and a possible reason why they're not as popular with consumers as battery-powered vehicles, is that they require new refueling infrastructure; you can't plug in a hydrogen-powered vehicle at your home or business. To address that concern, Nikola is building a network of fueling stations that will begin in California and eventually spread across North America and Europe. The cost of fuel will be included in the lease agreements it signs with customers.

Some of this article was originally posted on Business Insider. Visit Business Insider's homepage for more stories.
FORBES 2019 - Startup fundraising drive nets Trevor Milton billionaire status.
FORBES SEPTEMBER 2019

Trevor Milton, a college dropout from Utah who is pushing to raise at least $1 billion to put hydrogen trucks on the road, is a billionaire thanks to the latest investment that valued his Nikola Motor Co. at around $3 billion.

The change in 37-year-old Milton's status came this week when CNH Industrial, a European maker of heavy-duty work vehicles, committed $250 million to Nikola's Series D investment round. As Nikola's biggest shareholder, it also directly impacted Milton.

After CNH's purchase of a 7.7% stake, CEO Milton still owns "more than 40%" of Nikola, the company tells Forbes. In August, before the CNH news, Milton owned less than 50%, said its CFO Kim Brady. At the 40%-level, Forbes values his position in the company at just under $1.1 billion. The value of that stake will grow significantly if the company raises the further $750 million it's targeting in the current round.

Nikola aims to get thousands of futuristic hydrogen-powered trucks on the road throughout the 2020s that can travel up to 750 miles between fuelings at stations it plans to build and operate. For fleets requiring shorter-range semis, going a maximum of 300 miles per trip, Nikola will also lease battery-only variants of its Nikola One, Two and Tre trucks that will compete with Elon Musk's Tesla Semi.

Although hydrogen is an abundant element, it's been tough for automakers to commercialize their fuel-cell cars and SUVs owing to a lack of hydrogen fuel stations. In the U.S., hydrogen vehicles from Toyota, Honda and Hyundai are available mainly in California, the only state with hydrogen fuel stations. Although Nikola is relatively unproven at this point, it has orders for about 14,000 of its trucks, including from Anheuser-Busch, which plans to lease 800 of them.

Milton, a serial entrepreneur who only completed about a semester of college, developed a fixation on commercializing low-emission vehicles a decade ago, beginning with dHybrid Systems, an earlier startup that designed fueling systems for natural gas trucks. He sold that company to metals manufacturer Worthington Industries, which in turn provided seed capital for Nikola four years ago. Additional investors include hedge fund ValueAct Capital and NEL Hydrogen, Nikola's Norwegian tech partner for producing hydrogen at its fuel stations.

The product of a Mormon upbringing, Milton developed an interest in the mechanics of transportation as a boy taking rides on trains operated by Union Pacific, his father's employer. The death of his mother from cancer in his teens was a huge blow, but he says time spent in Brazil doing missionary work in impoverished areas fueled a desire to pursue goals that make people's lives better. He founded Nikola in 2015, and early last year relocated it from Salt Lake City to Phoenix in 2018 to recruit from a bigger talent pool, particularly the large number of young engineers coming out of Arizona State University in Tempe, he tells Forbes. As the company staffs up, Milton says he's trying to build a tight-knit culture at Nikola, adding a gym at its sprawling new headquarters and manning the grill at weekend barbecues with employees.

Nikola has positioned itself to benefit from growing carbon pollution worries that spurred tough new rules from the EU and in California, as well as diesel's public image issues, from the sooty exhaust to Volkswagen's emissions scandal that's cost that company billions of dollars in fines.

As those rules "start to bite and particularly as air-quality regulations do in a great number of cities, it's become fairly obvious that you can't do everything with batteries–no matter how much Elon would love to," says David Hart, a director with the E4Tech consultancy in Lausanne, Switzerland, who tracks development of clean vehicle technology. "The physics are just against you. So the hydrogen opportunity has become something that is much more real."

Along with CNH and NEL, Nikola is getting technical and engineering support from industrial giants including Bosch, Meritor and WABCO, a maker of truck components, what Milton calls "risk-sharing" partners to help it solve the chicken and the egg problem that's held back hydrogen car sales: Fuel companies won't build hydrogen stations until there's enough consumer demand. Consumers won't buy the cars until there are fuel stations.

"People have asked, "why hasn't Toyota succeeded? These guys are really smart," he said in an interview. "Toyota has really been trying to push to get people to build the stations. They've never been able to finally break out of that."

LINKS & REFERENCE
https://nikolamotor.com/
chochilino/2020/07/06/hydrogen-vs-electric-nikola-ceo-why-buy-the-nikola-two-hydrogen-fueled-truck-instead-of-battery-powered-tesla
www.businessinsider.com/nikola-ceo-biggest-reason-buy-nikola-two-tesla-semi-2020-7
usa-onlinenews.com/2020/07/04/nikolas-ceo-gives-the-biggest-reason-why-businesses-should-buy-the-nikola-two-instead-of-teslas-semi-truck-nkla
www.onenewspage.com/n/Technology/1zlssdof89/Nikola-CEO-gives-the-biggest-reason-why
www.forbes.com/sites/alanohnsman/2019/09/04/nikola-ceo-trevor-milton-is-now-a-billionaire-thanks-to-hydrogen-truck-startups-fundraising-drive
This website is provided on a free basis as a public information service. copyright © Climate Change Trust 2020. Solar Studios, BN271RF, United Kingdom.